Historic Homestead
on
Jerked Prairie – SOLD
Wise River, MT
Price: $2,699,000
The Homestead on Jerked Prairie consists of 158.52± acres of pristine mountain meadow terrain surrounded by the Beaverhead-Deer Lodge National Forest. The property is a unique in-holding within the national forest, which is also a Wilderness Study Area. Named Jerked Prairie due to the native tribes that would camp in its meadow to jerk meat. Few privately held properties offer the wild, natural beauty that is the historic Jerked Prairie. There are roughly 1.5± miles of mountain streams winding through the meadow, holding an abundant population of native westslope cutthroat trout. The property is home to a large variety of wildlife including deer, wolves, black bears, moose, the occasional mountain goat and elk which use the meadow as a calving ground. Structural improvements include two reclaimed cabins. The trapper's cabin is a one-bedroom, one-bath cabin and the second is the 3,500± sq. ft. log lodge constructed in 1997. Accessed by a U.S. Forest Service road, the property is roughly 20 miles south of the quaint town of Wise River, Montana.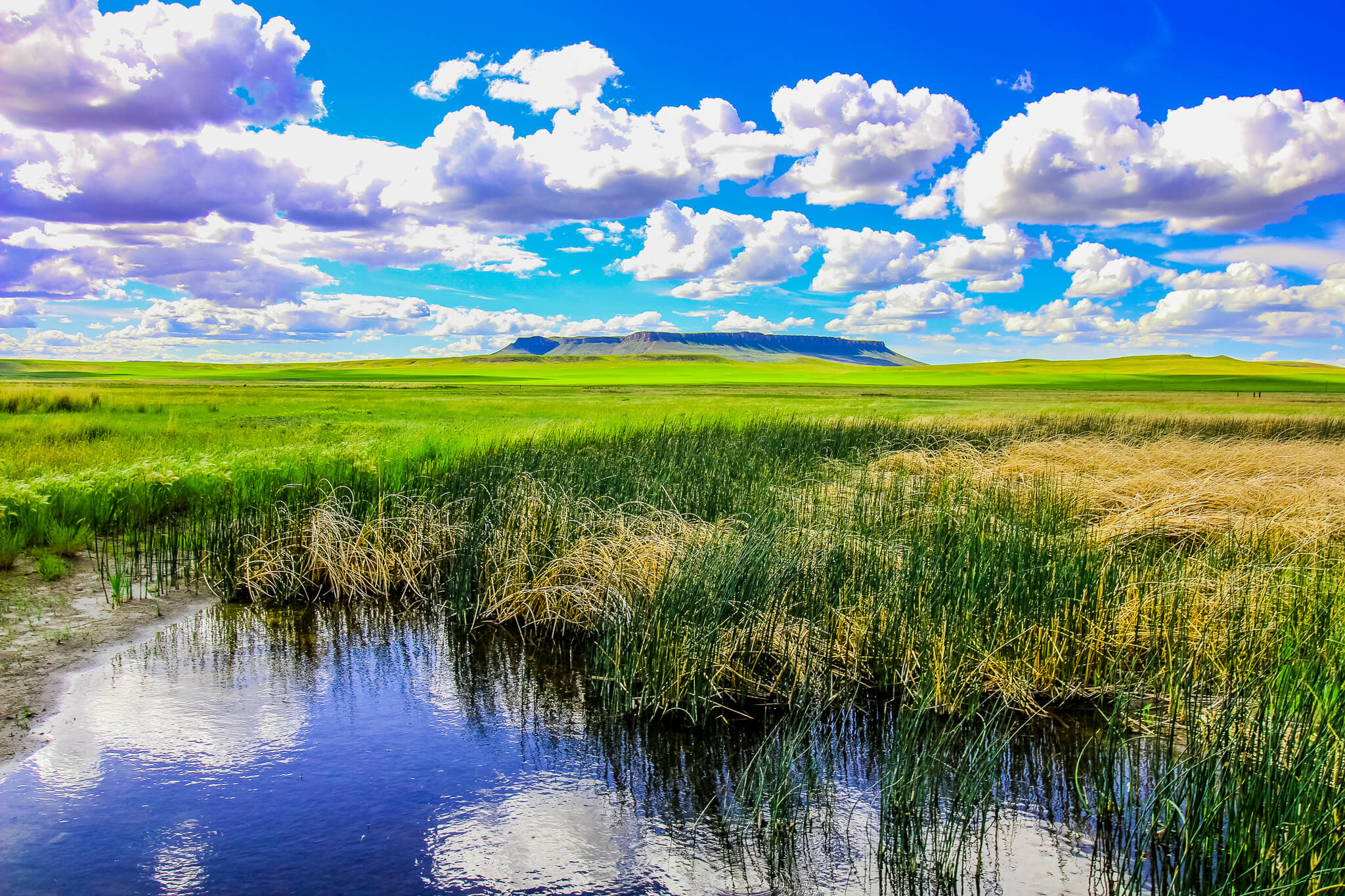 Little Muddy Creek Ranch- Sold
Cascade, MT
Price: $2,500,000
The Little Muddy Creek Ranch is comprised of 3640+/- deeded acres of seemingly endless pastures containing tall native grass along with wheat and alfalfa remnants from previous cultivations, privacy and views are in abundance.  Little Muddy Creek ranch provides the water required to sustain the livestock that graze over its vast expanse. 7 different improved water sources are spread out across the ranch, along with registered water rights from over 4 miles of Little Muddy Creek flowing through the property.
Previous use has consisted of dry land wheat crops, CRP and grazing. The ranch is fully perimeter fenced and cross fenced, creating 7 different rotational grazing pastures. substantial dry land crop potential abounds.
The open vast views are reminiscent of 1880's Montana, a time of cowboys, bison and the introduction of the of the west to the world. The ranch is situated at the base of Square Butte, a historic Montana landmark that represents Montana's western culture. Square Butte gained recognition as C.M. Russell's favorite landmark, he included it in several of his paintings, one being titled "Incident near Square Butte".
The ranch is located just 7 miles Northwest of the quaint small town of Cascade a rural agriculture based community. The Missouri River also flows through Cascade, providing world class fishing. Only 25 miles to the North lies the city of Great Falls.
Buffalo Jump Ranch – SOLD
Three Forks, MT
Price: $2,199,000
The Buffalo Jump Ranch is comprised of 256+/- acres of lush valley grass. From the horseman's perspective, the ranch is home to endless possibilities. From the spacious barn to the Montana grassland pasture, equine suited properties with this much potential, this close to Bozeman, aren't made available very often. The geography of the ranch consists of lush green meadows that sit below the scenic backdrop of Montana's breath taking Spanish Peaks and Tobacco Root Mountains . Buffalo Jump Ranch can sustain 100 pair for 4 months without any irrigation. The main ranch house is a custom built 3 bedroom 2.5 bath 4208 sq ft home. There are several other ranch buildings on the property, including a large 108x40 barn with livestock pens adjacent, along with additional pens, sheds and buildings. The Madison Buffalo Jump state park is minutes away and the property sits near the path made by the famous mountain man John Colter when he endured the pursuit of Blackfoot Indians, which we now know as "Colter's Run". Buffalo Jump Ranch is steeped in Montana history, agriculture and recreational opportunities.
Jefferson River Ranch – SOLD
Three Forks, MT
Price: $2,115,000
Expansive views of the Jefferson river and Three Forks valley are outstanding from the many possible building sites along the elevated bench overlooking the river while easily accessed by highway 287.  The ranch provides two miles of Jefferson river frontage along Hwy. 287 .  The Jefferson is a well kept secret that is known for very large trout, as it is the product of possibly the two best blue ribbon fisheries in the lower 48, the Big Hole and the Beaverhead join to form the Jefferson. The ranch provides close proximity to the valley and Bozeman, yet all the privacy in the world on this untouched 1567+/- acres.
The ranch also allows access to a land locked parcel of BLM.  Lots of wildlife along with trophy class mule deer reside on the ranch, 180 inch mule deer have been taken on bordering land.  Options are endless on this ranch and it remains undeveloped w/ no zoning, restrictions, covenants, or conservation easements, making it also ideal for 160 acre splits with no review.
There are not many parcels this size so close to Bozeman and only 2 minutes off of the interstate. There has  been a seasonal lease renewed from year to year for grazing and two permitted stock watering wells and tanks with registered water rights conveniently situated on the ranch. Located about 2 miles west of Three Forks and a very short drive to Bozeman.
Pennington Bridge Retreat – SOLD
Twin Bridges, MT
Price: $1,875,000
This 74 acre property will steal your heart with its magnificent setting along the Big Hole River. Complete with timber frame 4200+ shop with 2 bedroom 1 bath apartment on the upper level & 3 BR, 2 bath 1635+/- SF home that will delight the most discriminating buyer. There is almost a half mile of Big Hole River frontage which is riverbank accessible and bisected by the Big Hole Ditch known for its suburb trout waters. Productive hay meadows and a delightful spring and groundwater fed pond to gaze over from your front porch. Whitetail deer and moose for the wildlife enthusiast and ducks, geese, and wild turkeys also compliment the acreage for the wing shooter. The existing improvements are a wonderful compliment for either seasonal or full time residents.
Property Details:
Price: $1,573,000
Contact Information:
Cody Carestia
406.490.0973
Water's Edge – SOLD
Missoula, MT
Price: $1,573,000
Class A Missoula Commercial Building. Originally built for law offices so the building is well built with sound proofing materials added to all offices. Currently totally rented with six commercial clients. Building is located off Mullan Road and close to downtown Missoula. Good investment numbers for full tenant based building or owner occupied. Two floors with fully built out basement and break room all ADA compliant with elevator and parking. Commercial signage off Mullan Road.
Land is fully landscaped with river frontage out the back door. No expense has been spared for this building and it continues to be maintained to the highest levels. First class HVAC, build outs and professional interior decorating in all offices. Current tenants are legal and medical.
Property Details:
Price: $1,499,000
Contact Information:
Cody Carestia
406.490.0973
Beaverhead Rock Ranch – SOLD
Dillon, MT
The Beaverhead River is known as one of the most notable blue-ribbon trout fisheries in the lower 48 states. Just under 1 mile of the river runs through the ranch. The property also boasts a spring creek that flows through just under a half-mile of the ranch. Hunters should note that there is also a natural warm spring originating on the property, which is a waterfowl magnet in the Pheasants and upland birds are common to the ranch, as are whitetail deer.
Property Details:
Price: $1,250,000
Contact Information:
Cody Carestia
406.490.0973
Little Blackfoot River Ranch – SOLD
Elliston, MT
The Little Blackfoot River Ranch originates in a secluded setting where peace and tranquility fill the air. The sound of the pristine waters of nearly one mile of the Little Blackfoot River can be heard mere feet from the porch of this property.  With almost a mile of river frontage, you will never run out of adventures or fishing! The property is positioned on 55 acres and entirely fenced in, and if that's not enough lush forest to roam, it borders 900,000 acres of Helena National Forest Service Land. The setting is great for hiking or for a horseback ride through the Forest Service Land.
Property Details:
Price: $1,015,000
Contact Information:
Cody Carestia
406.490.0973
Stone Creek Retreat in Bridger Canyon – SOLD
Bozeman, MT
STONE CREEK RETREAT IN BRDGER CANYON is a 4O+/- acre offering in the heart of one of the most desirable mountain ranges in the northwest, the Bridger mountains. Secluded yet easily accessed residential properties in the Bridger Canyon area have been some of the most coveted real estate holdings for years. These properties are generally held in strong hands and their availability is very limited. The opportunity to own a parcel this size centered in the Bridger range is a chance many dream about.
Stone creek traverses through a quarter mile of the property providing year round live water. Along with its aesthetic beauty Stone Creek Retreat is frequented by all the wildlife the Bridger mountains have to offer.
Property Details:
Price: $995,000
Contact Information:
Cody Carestia
406.490.0973
Willow Creek Wetlands – SOLD
Three Forks, MT
Located in the quaint community of Willow Creek this property offers 1 1/2 miles of Jefferson river frontage across 350+ acres of agricultural and recreational land. Deer, waterfowl and upland birds are plentiful, along with shelter belts of mature cottonwoods and multiple water features across the property.
Property Details:
Price: $595,000
Missouri River Getaway
at Mid Canon – SOLD
Criag, MT
Bring your fly rod and experience "Blue Ribbon" fishing, the Missouri River is within walking distance to the front door of this scarcely available offering. Located 6.5 miles from the fly fishing mecca of Craig, Mt, 15 miles from Cascade Mt and right in the middle of the most desirable stretch of the Missouri River in both directions. After a long day of hiking, or fishing on the Missouri River, enjoy the immaculate views from the giant redwood deck. The spacious parking area and comfortable 4-bedroom, 2-bathroom home accommodate large groups, so invite your friends or family to come play horseshoes or sit around the campfire. The two large shops, and one storage shed, have plenty of room for toys or equipment. The gorgeous creek, that runs year-round, is home to an abundance of wildlife including deer, black bears, elk, and occasionally moose! This 7.84 acre property allows for privacy, but is a short distance to I-15 for convenient access.
Contact Information:
Cody Carestia
406.490.0973
Sandstone Lane – SOLD
Great Falls, MT
Located within a short walking distance from the Missouri River, this custom-built, multi-family home sits on a 3.32-acre lot and is ready for its new owner. Each private unit includes 3 bedrooms and 2 bathrooms, along with central air. Rent out one unit for extra income, or have a place for the relatives to stay. While relaxing on the private deck, enjoy the gorgeous views of the pond that sits right next to the property. Along with the pond, another perk that the HOA has to offer is a private 67-acre parcel right on the Missouri River. Bring your tools, vehicles, and toys because there is plenty of room in the 30X40ft shop.
Property Details
Acreage: 5 +/-
Price: $573,000
Contact Information:
Cody Carestia
406.490.0973
Big Hole River Getaway – SOLD
Wise River, MT
Price: $573,000
Custom Justus Lindal Cedar log home situated on 5+/- acres with deer, elk and access to BLM out your back door. The home consists of 3br, 3ba with a wrap around deck that is shaded by mature cottonwoods and offers a view in every direction.
Located just outside the small community of Wise River, MT in the beautiful Big Hole valley. Jerry Creek which flows through the property provides your own private fishing and you're within walking distance to the famed Big Hole river. The creek can be heard from any window in the home. This is an opportunity to own a home close to the Big Hole with seclusion and wooded privacy that is easily accessed year round. Butte, MT offers easy travel convenience and all of the modern amenities you need within 30 minutes.
Property Details:
Acreage: 160 +/-
Price: $525,000
Contact Information:
Cody Carestia
406.490.0973
Scapegoat Wilderness Haven – SOLD
Ovando, MT
Price: $525,000
The Bob Marshall Scapegoat wilderness is one of the last untouched wild places. The Scapegoat Wilderness Haven is nestled directly in the shadow of the renown Bob Marshall Scapegoat wilderness. This 160 acre parcel and enclosed log home are surrounded by breathtaking views of the expansive wilderness area and abundant wildlife.  Trail head access is within riding distance!
Log home just needs interior build out to be finished. Foundation for 3 car garage is poured, bring in power or keep the taxes down and go off the grid with a generator, either option is yours! Outstanding 35 gpm well, septic is installed.
The quaint rural community of Ovando and the recreational lake town of Seeley Lake are both nearby. The Blackfoot river runs through the valley as well, making this location exceed everything Montana is perceived to be.
Property Details:
Acreage: 119 +/-
Features: Beautiful views
Price: $499,500
Contact Information:
Cody Carestia
406.490.0973
Madison River Meadow – SOLD
Three Forks, MT
Price: $499,500
Madison River Meadow consists of 2 Parcels  – one 39 Acre Lot and one 80 Acre Lot. The property is completely fenced and conveniently located only  .3 Miles from the Madison River with Cobblestone Fishing access directly across the road.
Breathtaking views of the Madison range to the south along with the historic buffalo jump state park to the east uniquely nestle this property into the Madison river valley while only a short drive to Bozeman. Ray Creek meanders through the property year round.
Property Details:
Acreage: 41 +/-
Features: Beautiful views
Price: $499,000
Contact Information:
Cody Carestia
406.490.0973
Jackson Creek 41 – SOLD
Bozeman, MT
Price: $499,000
Jackson Creek is the sought after pinnacle of Bozeman living. The beauty of this area is unparalleled and is complimented by the exquisite custom homes that reside in this high mountain drainage. This 41 +/- acre offering sits just above the lush green meadows of Jackson Creek, providing breathtaking panoramic views of the Bridger and Absoraka Beartooth mountain ranges. Jackson Creek 41 is secluded yet lies just minutes from Bozeman and the Bridger Bowl ski area. If you are looking for a home site that will leave you in awe of Montana's beauty more every day, you've just found it.
Jackson Creek 41 is protected under a conservation easement and allows for One single family home which must be located within the building envelope, a 200′ radius set by MT Land Alliance, in the SW corner of the lot. A detached garage, shop or barn 900SF or less is also allowed.
Property Details:
Price: $420,000
Contact Information:
Cody Carestia
406.490.0973
22 Clark Drive- SOLD
Three Forks, MT
Price: $420,000
Beautiful New Construction, Well laid out, Well thought out, and well appointed. Located conveniently within striking distance of 3 of Montana's major cities, and just outside of Three Forks "Montana's Favorite Small Town". This Home boasts Vaulted ceilings, Extensive stone work both interior and exterior, a 4 stall garage for all your toys, under cabinet lighting, Alder trim and doors, Custom tile shower in the master bathroom and a huge walk in closet. In addition, there is a fire suppression system in place, as well as a state of the art Reverse Osmosis water treatment system. The list goes on and on, located in Colter's Run Subdivision, complete with equestrian trails, the home sits on 4+ acres with open space behind you, there is room to catch your breath!
Property Details:
Acreage: 41+/-
Bedrooms: 3
Price: $379,000
MLS #: 346702
Contact Information:
Cody Carestia
406.490.0973
60 Log Cabin Lane – SOLD
Townsend, MT
Price: $379,000
This home is located in rural farm and ranch community of Townsend Montana. The property lies just minutes from Canyon Ferry Lake at the foothills of… the Big Belt Mountains, this area has endless recreational opportunities. 43+/- acres provide seclusion along with end of the road privacy and views that are unmatched. Wild turkeys elk and deer can be seen from the front porch regularly. A 1300sf 3 car garage provides ample room for your toys to explore the thousands of acres of public land that are located within a few miles.
Property Details:
Acreage: 20+/-
Bedrooms: 5
Price: $365,000
MLS #: 345904
Contact Information:
Cody Carestia
406.490.0973
34 Tatanka Trail – SOLD
Whitehall, MT
Price: $365,000
This 5 bdrm, 3 bath home is located on a hill with incredible views. The 20 acre parcel allows for horses, lamas, chickens, etc . The home has been updated with new flooring, new bathrooms, new paint. There is a cathedral ceiling in the open concept upstairs with a wrap around deck to take in the valley views. 
Property Details:
Acreage: 80
Price: $320,000
Contact Information:
Cody Carestia
406.490.0973
Foothills Above Rock Creek – SOLD
Glen, MT
Price: $320,000
This spacious 80 acres lies just minutes from the Brownes Bridge fishing access on the famed Big Hole River. Seclusion and privacy nestled within close proximity to I-15. Situated adjacent to public lands where mule deer are seen regularly! Topography is a native high desert type range with views of several area mountain ranges, the valley leads to the nearby town of Dillon and the Rock Creek drainage. Two small springs breath additional life into the multiple building sites in close proximity to them.
Property Details:
Acreage: 2.38
Bedrooms: 3
Price: $239,000
MLS #: 304375
Contact Information:
Cody Carestia
406.490.0973
Big Hole River Cabin – SOLD
Dewey, MT
Price: $239,000
This 2.38 acres is located in the quaint rural community of Dewey, which is nestled in the middle of the famous Divide canyon along the Big Hole River. The parcel includes shop and shed buildings and a cozy getaway cabin. Recreational possibilities are endless in the area and the parcel provides plenty of room for weekend camping with friends and relatives all within walking distance of the Big Hole River, which can actually be heard from the property.
Property Details:
Acreage: 4.11+/-
Price: $180,000
Contact Information:
Cody Carestia
406.490.0973
Pintlar Mountain Views – SOLD
Anaconda, MT
Price: $180,000
4.11 acres with outstanding views of Mt Haggin. Great building site in a highly desirable area just north of Anaconda. This is the place to build your dream home with the Pintlar Wilderness right out your front window. Close to Georgetown Lake, Discovery ski hill and all the great recreational opportunities Montana has to offer.